I bet you're not surprised by this result, from a quiz which asks "What Book Are You?" (A pretty profound question, if you ask me).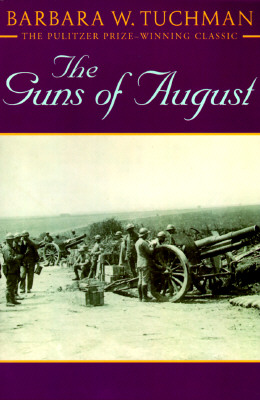 You're The Guns of August!
by Barbara Tuchman

Though you're interested in war, what you really want to know is what causes war. You're out to expose imperialism, militarism, and nationalism for what they really are. Nevertheless, you're always living in the past and have a hard time dealing with what's going on today. You're also far more focused on Europe than anywhere else in the world. A fitting motto for you might be "Guns do kill, but so can diplomats."
---------
How about "Guns kill, but leaders magnify the effect?"
I was a little thrown by the parts about "living in the past" and Europe, but given that I reference Voltaire when talking about Abu Ghraib and have half a novel about Jehanne Darc lurking in my hard drive, it's a fair cop. Especially now, when Voltaire's descendants (as human rights campaigners) find themselves having to fight to preserve the Magna Carta and the Bush administration is fighting hard to undo the Enlightenment, it's not bad to be identified with a storyteller who used history to cast light on our time. (Thanks Annie at el tercer ojo for the link. If you take the quiz, tell me your results below?)
Speaking of such storytellers, I watched Joseph L. Mankiewicz' 1953 film of Shakespeare'sJulius Caesar today. And there was Will, that incorrigible royalist stealing a plot from Roman history, to draw an incisive portrait of abusive leaders playing at populism. Caesar, about to be assassinated, reminds me inevitably of Bush in his sweet-faced imperiousness, his turning inflexibility to a virtue: "I am constant as the northern star/Of whose true-fix'd and resting quality/There is no fellow in the firmament." Marc Antony -- Brando at the height of his considerable powers -- takes up the same trope as he manipulates the Roman mobs: "I am no orator, as Brutus is; But, as you know me all, a plain blunt man..." Brutus and Cassius the ones who "think too much" and think rhe people want democracy: "Our reasons are so full of good regard/That were you, Antony, the son of Caesar, You should be satisfied." Like nice Democrats, they trust their enemies, particularly Antony, to play fair. Shakespeare may make Antony the hero of his play, but Mankiewicz' Antony is a pure demagogue,who smiles when the mobs begin to rampage. Lessons from the past, indeed.
The film's worth seeing for a number of reasons, not least seeing Marlon Brando, James Mason, and John Gielgud in their powerful youthful incarnations. Brando's face upon seeing Caesar's corpse was a Guernica canvas that must be studied by actors, Gielgud's body language an interesting study in 1950s gay aesthetic, and Mason, in addition to a terrific performnce, was sexy as hell. No one's tried a feature of it since (who wants to follow Brando?), but I think it's time. From abusive power to useless violence to the sweet fascists, there's a funhouse of mirrors for our time.